10 Delicious Spanish Meals
It's important to taste the food of a place to know its culture and values.
Spanish food has been famous for its rich and unique flavor and speaks of character.
While the food in Spain varies from seafood to roasts, it emphasizes on utilizing the best local produce efficiently.
Spanish food is cooked with age old traditions and has influences from different regions.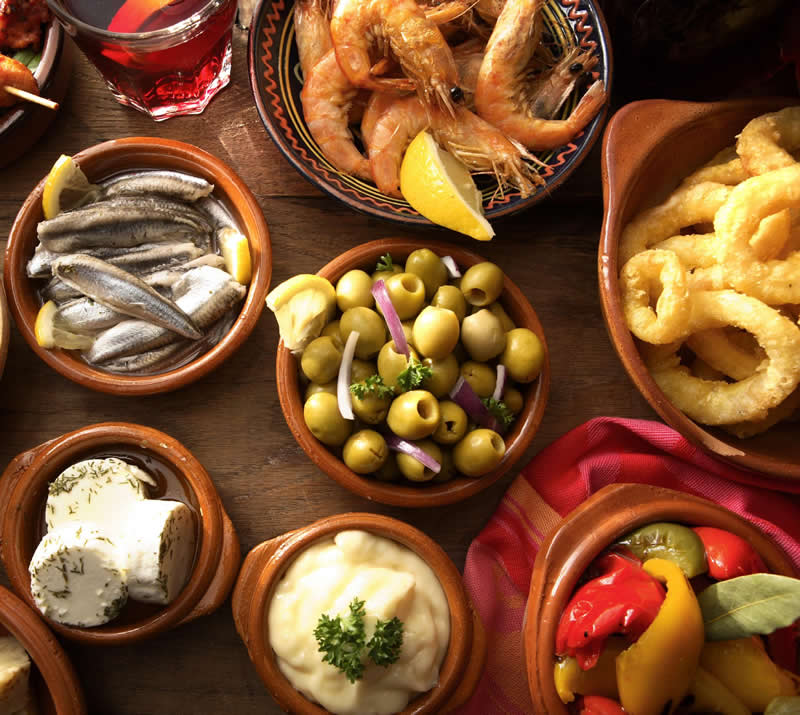 Top 10 delicious Spanish meals you should try
Gazpacho
Gazpacho is a delicious creamy blend of the best ripe tomatoes, cucumber and bread along with garlic, peppers and olive oil.
This refreshing drink is served cool. It may be made with different ingredients and proportions.
This drink is especially famous in southern parts of Spain.  Tt is taken daily during summers in some regions. It also available on the counter in most tapas bars.
Paella Valenciana
Paella Valenciana lunchtime dish is the most famous dish on this list and can be found at almost any place offering Spanish cuisine.
Traditionally, this dish originated around the region of Valencia coming in two varieties with either chicken and rabbit or seafood.
The color of rice comes from saffron whereas the base is cooked to a crisp black crust known as socarrat for added flavor.
JamonCured ham or Jamon
JamonCured ham or Jamon is one of the staple foods of Spain with the country being its largest producer and consumer.
Jamon may come in wide varieties but the most commonly known are Jamon Serrano and Jamon Reserva.
While Jamon Serrano comes from white pigs and is easily available, Jamon Iberica comes from black pigs and is an exquisite delicacy.
Thin slices which melt in mouth are often enjoyed with sherry and Cava by Spanish people.
Pulpo a la Gallega
Galicia is famous for its seafood and Galician octopus is a wondrous delight to encounter. Cooked with olive oil and paprika, this dish has a history of more than 125 years when muleteers used to cook it during cattle fairs.
The Octopus Festival which is held during August at Ourense is an extraordinary experience for food lovers.
Cochinillo asado
Hailing from the Castille-Leon region of spain, this delicious meal is mostly prepared using 2 to 6 week old pigs.
Cochinillo asado dish is a treat for meat lovers with crispy skin and mouth-watering smoky flavor from being cooked in wood-fired traditional ovens. The meat is so tender that it is cut using the side of an earthenware plate.
Patatas bravas
Patatas bravas is another staple dish in Spanish.  Being named as "brave potatoes" owing to its spicy sauce.
The potatoes are generally cut in cubes and shallow fried whereas the sauce may differ from region to region.
While in some regions people do not prefer using tomatoes for the sauce, it is mostly cooked in olive oil with lots of paprika and garlic.
Gambas al ajillo
This is an easy to make Spanish dish which mainly consists of garlic shrimps. This dish is very popular in Southern regions of Spain and is usually served in earthen bowls.
Cooked in olive oil with lots of green chilli, this dish is a true delight for any seafood lover.
Tortilla
Tortilla is the Spanish omelet made with a number of ingredients making. It loved by people all over the world.
While many people prefer making it with chorizo, peppers and onions along with potatoes. Traditionally it is made using potatoes and onions.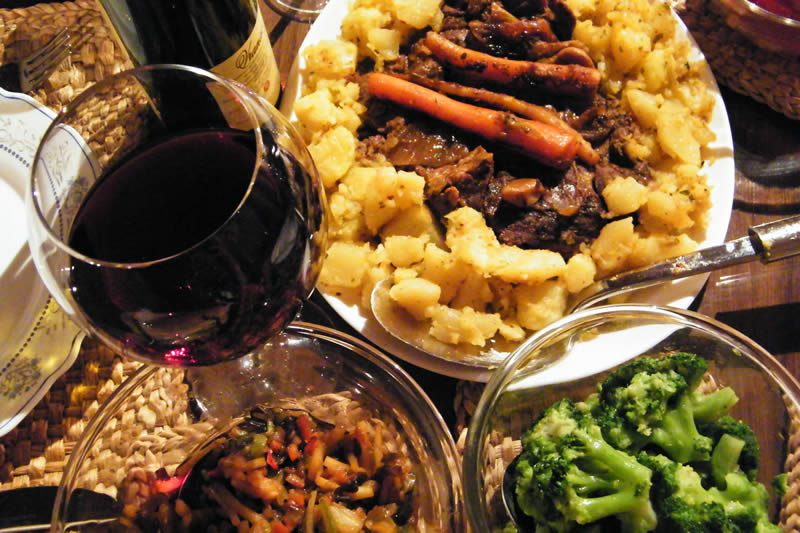 Fabada Asturiana
Coming from the Asturias located in the northwestern Spain. Fabada Asturiana is a traditional recipe cooked using fabada or white fabe bean.
This dish is generally served with pork, smoked paprika, Spanish blood sausage or morcillo and saffron.
Due to its high nutritional value. It was earlier consumed during winters.  Now available all year round due to increased popularity.
Rabo De Toro
With origins from 16th century Cordoba, this Andalusian traditional stew features exquisite flavors.
Earlier, Brave bulls tails was used to make the the stew. Actually the bulls who died during corrida. Now mainly prepared with oxtail.
The stew is cooked slowly with varying ingredients. It can also contain a bit of wine or chocolate occasionally.
These are the top 10 delicious Spanish meals you should try on your next visit to Spain.
While a few dishes such as Jamon, tortilla and Gazpacho are available everywhere. It is preferable to visit a traditional restaurant for dishes specific to certain regions.e.
Spanish food has been famous for its rich and , tortilla and Gazpacho are available everywhere, it is preferable to visit a traditional restaurant for dishes specific to certain regions.…
Read More